English
Pond
.com
Portal Site for English Learning & Teaching!
Speaking·Listening·Vocabulary·Grammar & More>>>
Vocabulary - Learn Vocabulary here

Teach and learn English vocabulary on our site. We offer exercises on Idiomatic Expressions, Phrasal verbs, commonly used words. There are videos, mp3 listening for idioms, worksheets to print, self-grading ESL vocabulary exercises and much more for teachers and students.
Idiomatic Expressions - Idioms A - Z
Phrasal Verbs
coming soon!
Vocabulary Exercises for Students
English Vocabulary Ebooks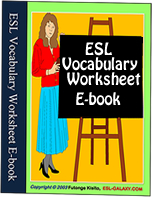 Vocabulary and Grammar Ebooks>>>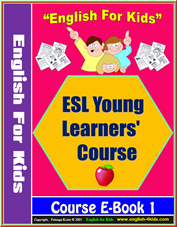 Kids Vocabulary and Grammar Course Ebook 1>>>
ESL VOCABULARY GAMES
Follow the links to browse the variety of interactive vocabulary games we offer. There are interactive vocabulary games and quizzes like :Audio Memory Games, Snakes and Ladders grammar games, Hangman, Wheel of Fortune, TV Games and more to help practice English vocabulary.
Listening Memory Games
Extras - Tools for Students and Teachers
ESL/EFL/ESOL Resources- Map
ESL Search Engine
Find English Materials